Preschool
Preschool has been busy this month! Students have been working hard each and every day with their letter recognition. Students are all the way through U in the alphabet!  Students have been matching uppercase and lowercase letters to help with identification.
Preschool celebrated Dental Hygiene Month with Dr. Brian Gallagher from West Park Dental.  Dr. Gallagher showed students how to brush, floss, and take care of their teeth!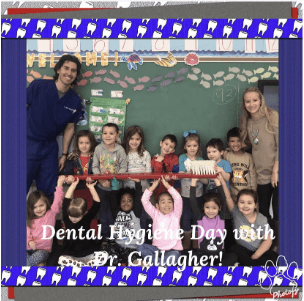 Students also celebrated the 100th day of school by dressing the part! They dressed like they were 100 years old and played all sorts of 100th day games!  Students have been counting and adding numbers to 10.  They have also been focusing on how to identify emotions (their own and others).

Kindergarten
In Kindergarten students just celebrated the 100th day of school! They did lots of fun activities and worked on counting many different objects.  Students have also been working on many different parables that Jesus used to teach important lessons. The students are working very hard on creating and writing their own sentences along with identifying parts of speech. In math students are working on counting numbers twenty and beyond and will soon be moving into learning about subtraction.
First Grade
In first grade students read stories from the Elephant and Piggie series by Mo Willems.  Students practiced fluency, story elements, and character traits using the stories.  They then made character puppets and read their story in front of the class. The students had a blast reading with their puppets!  In math, students are adding and subtracting two-digit numbers using place value.


Second Grade
Recently, the 2nd grade teamed up with Ms. Rosenbaum's 5th grade to create Valentine's Day cards for the residents of Larchwood Village.  In Religion, students are learning about using the gifts God gave us as a way to spread the Gospel.  This project allowed students to put this concept into practice while also showing off their art and writing skills!  Students hope the residents loved their cards as much as they loved making them!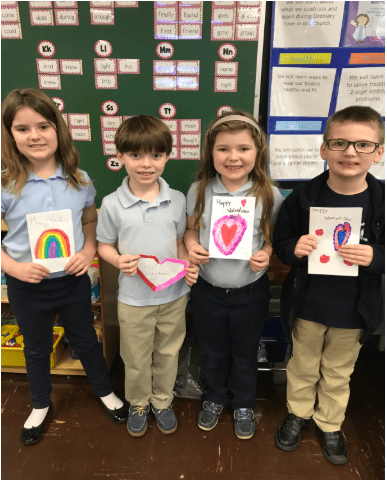 Third Grade
Third grade has started reading a chapter book, "Third Grade Angels" as a class.  The story focuses on kindness, being good and making the right choices. It is a story of a third grade class taught by Mrs. Simms.  The children are challenged to become third grade angels, so they can earn the "good behavior halo."  The students at OLA are participating in a similar kindness challenge for the month of February.  Third grade is really enjoying this reading experience!
Third grade has also started their lesson on the Iditarod race (Alaskan dog sled). Each third grader will pick a musher to track throughout the race.  Let the race begin!!