Preschool
In Preschool students have spent weeks working on letter identification and letter sounds. They have talked a lot about how looking for letters in everyday words, makes them letter detectives. At the beginning of November, students made their own face masks with 'ABC' written on them, to bring out their super powers of finding letters! Then, they partnered up with iPads, and took pictures of different letters that they found around the school (on posters, handwritten pictures, name tags, etc.) Students did a brilliant job with this!!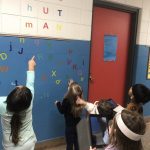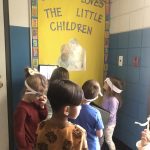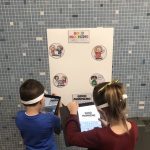 Kindergarten
Students recently learned about the pumpkin life cycle. They compared pumpkins by size measuring their height in cubes and their diameter in chain links. The class carved a pumpkin and counted the seeds. Students put the seeds in groups of ten and counted by 10's. There were 687 seeds!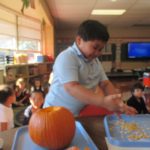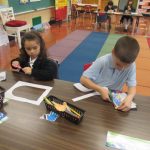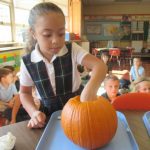 Students also learned about the Rosary and learned to pray the Our Father, the Hail Mary, and the Glory Be.  Kindergarteners wrote cards to Veterans for Veterans Day.
This month in Religion class students are focusing on the Saints and how they should all try and lead a life that brings themselves and everyone happiness and peace. Students are also working on the story of creation and that we all need to be grateful for all the wonderful things God has given us. In Language Arts students are continuing to learn the skills  necessary to help them read. The students are also working on their sentence writing and story re-telling. In math class the students are building on their knowledge of numbers and comparing groups of numbers. At the end of the month students will start working on addition. During the entire month of November they are also learning about how it is important to be thankful for all that God has given us and to give to those in need.
First Grade
In first grade, students will be learning all about the first Thanksgiving and the lives of the Pilgrims. They will also be learning about the different types of maps and cardinal directions.
Second Grade
The second graders spent time in Science working on the design process and different forms of engineering. During this time they completed their first STEM project of the year. Groups were challenged to design a way for a toy car to move using just a balloon. They were given options of materials they could use to attach the balloon to the car and then worked to design the best way for this to happen. It was awesome to see the different methods and designs that they came up with! Second grade is looking forward to many more STEM projects throughout the year.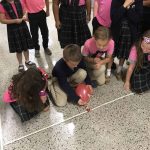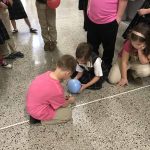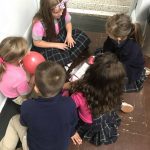 Second grade has been exploring non-fiction books in reading.  Their reading skills are growing stronger, and students are learning many interesting facts about land and sea animals.  Second graders are practicing the skill of locating answers to questions using the text.  Students are working hard and enjoying learning about animals!
Third Grade
Third grade has been having fun with adjectives. Students have expanded their list of adjectives to use when writing. Third graders went on a teacher walk having to name adjectives for each teacher. They also had an adjective fashion show in the classroom with a guest appearance from Mr. Crawford.