Fourth Grade
The fourth grade has been studying the Mysteries of the Rosary.  Students have brought in their own rosaries, and have taken some time each week to pray the rosary together.  It has been a very spiritual and enjoyable experience for all.
Students are brainstorming ideas for what they will be doing for their second quarter service project.  In Social Studies, students have been learning about Ohio's role in the American Revolution.  Students recently enjoyed an assembly on Patriotism presented by the American Legion.
Fifth Grade
In fifth grade Reading, students are reading different genres of fantasy stories.  In small groups they are reading fables, myths, tall tales, and fairy tales.  After reading the stories students are writing summaries and creating a diorama of their story.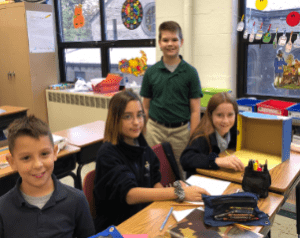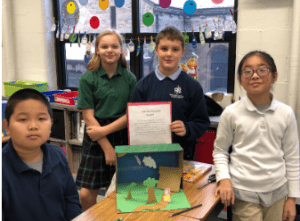 Fifth and sixth graders created a prayer wall in the hallway.  During prayer each day, students add their intentions to the prayer wall and keep all intentions in their hearts as we pray in every class.  Third graders are also adding their intentions to the prayer wall.

During the second quarter, fifth and sixth graders organized a candy drive.  Students are collecting extra Halloween candy and donating it to veterans. The whole school got involved and students collected two large boxes of candy and made over one hundred thank you cards for veterans. The candy and cards were then taken to the Veteran Hospitals.
Fifth and sixth grade spent Halloween flipping bottles of candy corn!  Every investigation begins with a question and our question was: "How would having candy corn in the bottle effect how it flips?"  Students did research by watching a video of some pretty impressive bottle flips and made observations about what made a successful flip.  The students then made their hypothesis about which of our candy corn bottles would be most successful when flipping, a full bottle, half full, or ⅓ full.  The students flipped each bottle a set number of times, recorded their data in a table, then analyzed their results to form a conclusion.  Students added math into the lesson by converting their data to fractions in the fifth grade, while the sixth grade converted their data to fractions and decimals.  It was a good time!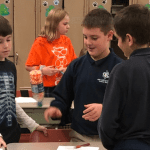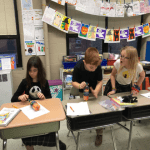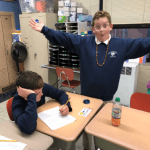 In Religion class, students are currently learning about the importance of longing for God. We have the ability to open our hearts to God from the inside, not outside. Classes have discussed three things that all people need: 1. to love and be loved, 2. feel worthwhile (you make a difference), and 3. the need to belong. Classes discussed needs versus wants in our life. God wants the best for you. It is not about what you want for you, but what God wants for you. Take the time to listen to what God is calling you to do. Prayer has been a continuous topic in class. We have 86,400 seconds in a day. If we have time to play, eat, be on social media, play video games, and rest, then we have time to pray, praise God, and thank Him for the wonderful gifts bestowed upon us. It is also a good idea to use these seconds to say thank you to those that help us in our lives (i.e. parent(s), grandparent(s), siblings, friends, neighbors, loved ones, and teachers to name a few).
Sixth Grade
In Religion class, students are currently learning about the two Creation accounts in the Book of Genesis (Chapter 1 and 2). Students worked with a partner and used a Venn Diagram to compare and contrast the two creation stories. Students learned the truths about God from these stories: God always was, even before the universe was created (God was never born, God will never die, God is and always will be, God is God), God created everything out of nothing (Ex Nihilo), God loves all creation, God created human beings in His image and likeness, and God created us to be happy and live in perfect harmony with Him, each other, and all creation. Students also continue to learn about the Liturgy of the Week on Friday, to help prepare them for the weekend mass.
Students are currently studying about the scientific method. What is Science? Why is Science important in our lives and in our world? Students have been observing and investigating the effects of rust on metal in water and salt in water. Does salt increase the rate at which metal rusts? This has been an investigation that is being used to teach the scientific method. Classes have used it to discuss independent variables, dependent variables, controlled variables, and evidence to come up with their conclusion. Students just completed an investigation about time increasing or decreasing of a toy car on a track. Does time to go from point A to point B change if starting position changes? To end the unit, students will complete a Skittles lab activity.