Fourth Grade
The fourth grade has been very busy this past month. In Science class, students have been learning about the design process by creating containers to protect eggs from breaking.  They tested their creations by doing an egg drop in class, revised their containers, and then retested with a second egg drop.  In Social Studies, students have been learning all about our hometown, Cleveland. They have been learning about Cleveland's landmarks, museums, outdoor venues, and areas of interest.  Fourth graders are planning to have a "birthday" party for Ohio in early March to celebrate the day Ohio became a state! In Religion, students have been discussing vocations and how they can use their talents to be of service to others which is preparing for their service project to help a local nursing home.
Fifth Grade
The fifth graders and second graders got together to make Valentine's Day cards for the children at Blessing House and for children in the hospital.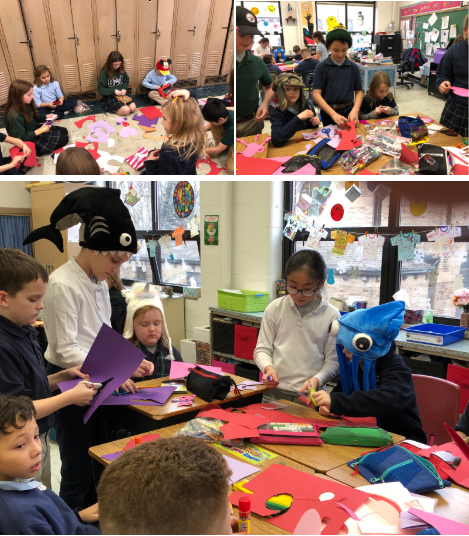 In Science class, fifth grade students are creating their own desktop versions of popular carnival games to go with the Force and Motion unit.  Students watched a short video about a boy in California who created an entire arcade out of cardboard boxes for some inspiration.  You can see the video at http://cainesarcade.com.  On March 3rd, the third graders will visit the class carnival and get to play the games.  The students have come up with some great plans and cannot wait to see how they all come together!  Here students are using balloons to demonstrate Newton's Three Laws of Motion!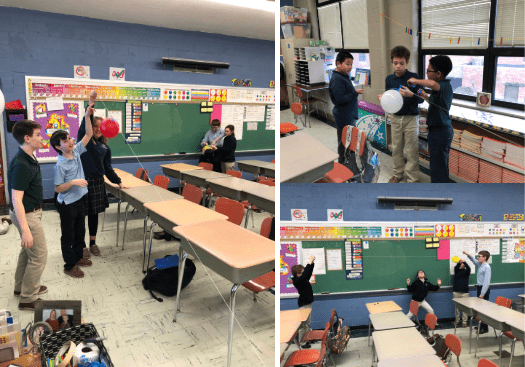 Fifth graders "Think Thursday" activity was to stack cups into a pyramid.  Each team was given supplies and they were not able to touch the cups with their hands.  All team members had to work together to accomplish the task.  It took a couple tries, but when working as a team, they did very well.

In Reading fifth graders are reading "Among the Hidden".  Students are almost finished with the story and have been working on a PowerPoint presentation. When students finish the story they will be having a test on the whole book.
Fifth graders have begun learning about the Signs of God's Presence. Students are reflecting on God's personal invitation through Scripture.  During religion class, students are sharing prior knowledge of chapter concepts and vocabulary, identifying a sign as something that points beyond itself to something more, and developing an understanding of God's signs and the need to be attentive to them.  Fifth graders are also recognizing that the Passover meal was a sign of the covenant between God and the People he saved.  Students are describing the Seven Sacraments as effective signs of the new covenant made through the life and sacrifice of Jesus as they become more aware of the signs God sends.
Sixth Grade
Sixth graders finished reading "My Brother's Secret" and are starting a story map of the book. Their next book will be "All Shook Up".  Students also finished their mini-unit about simple machines.  Students were assigned to design and build a Rube Goldberg Machine that will send a ping pong ball into a plastic cup when it stops – in a minimum of 5 steps and 4 simple machines; using the procedure discussed and outlined in class. Students worked in groups of 3 to design and build their RGM. All materials came from home, not the store. Students took turns journaling daily – What was discussed? What did you do? What has changed? What worked? Didn't work? What materials are being brought in?
Rube Goldberg Machine (RGM) – creating a machine (or contraption or invention or device or apparatus) that uses a chain reaction to accomplish a very simple task in a very complicated manner.
Students discussed in detail that  it is okay to fail while creating their Rube Goldberg machine.  Through this project sixth graders were open to new ideas and used materials that are out of the ordinary.  Students shared their RGM's at Open House to jump start Catholic Schools Week.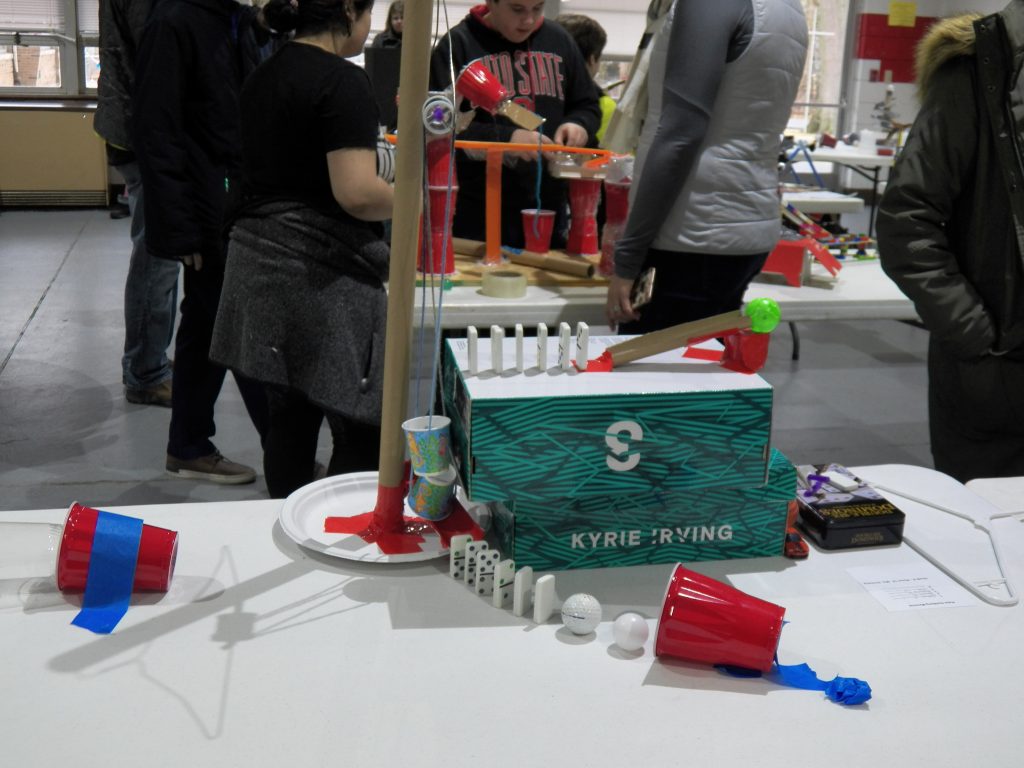 The fifth and sixth grade students were part of the Epiphany of the Blessing of the doors.  Classes walked around to many of the classrooms/offices to talk to students about the Epiphany of the Lord.  Then, sixth graders explained to the students what 20+C+M+B+20 means and why their doors were chalked.
Students began learning about God's Faithfulness.  Students wrote about ways to use the word faith, illustrated someone being selfish and how the relationship may be healed, and re-read Scripture about Adam and Eve's sin.  Students paralleled that with what "forbidden fruit" do we still eat today through discussion and read about God's promises to us and the signs and symbols that belong with them.  Sixth graders also discussed free will and intellect (we all have the free will to choose to do something – you choose the behavior, you choose the consequence – Dr. Phil), and learned ways to follow God's example of faithfulness.