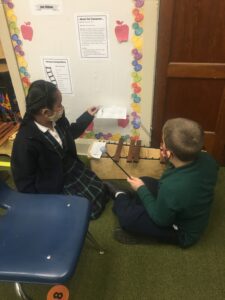 Welcome to Music at OLA!  This year we have been hard at work already singing and playing instruments!  The work we have done so far will give us a good foundation for the rest of the year.
Pre-school students have been working on learning to echo using their singing voice, keeping a steady beat, and playing instruments we shake.
Kindergarten and first grade have been exploring using their singing voices, playing classroom percussion instruments, moving to the music, and identifying if music is fast or slow. We've learned many different songs and chants along the way.
2nd, 3rd, and 4th graders have been working on reading simple rhythms and melodies and composing our own melodies using notes from the scale. We also learned more about instruments from China.
In 5th through 8th grade, we set goals for the year and then have been hard at work reviewing how to read and write rhythms.