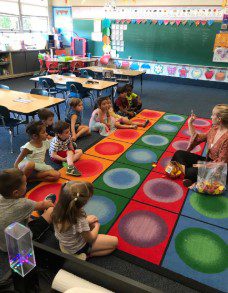 The Our Lady of Angels Preschool provides a nurturing, faith-based environment using developmentally appropriate activities and materials.  We prepare 3, 4, and 5 year old children for Kindergarten using a wide variety of activities. Our program maintains a low teacher/child ratio to encourage individualized instruction.  
Our goals include:  
Guiding children to recognize God's presence in everyday experiences.

Helping children develop the necessary skills to interact with others; work toward a common goal; cope with conflict, and express feelings.

Providing children with a wide range of activities that promote effective communication.

Stimulating children to utilize reasoning in problem solving.

Exposing children to a variety of language experiences through books, writing, and early literacy skills.

Discovering and constructing knowledge through exploration and experimentation.
Our curriculum is based on the Ohio Department of Education standards in content areas of English/Language Arts, Mathematics, Social Studies, and Science.  We welcome the opportunity to support and partner with our families. We also offer Parent/Teacher conferences twice a year. Daily communication between home and school is ongoing through contact at arrival and dismissal as well as weekly classroom updates.  Parents are encouraged to volunteer in our classrooms.
Enrollment Options and Tuition
3, 4, or 5 year olds may attend part-time or full-time classes.  
Part-time 3 year olds attend Tuesdays and Thursdays from 7:50 am till 11:00 am.
Part-time 4 and 5 year olds attend Mondays, Wednesdays, and Fridays from 7:50 am till 11:00 am.
Full-time students (3, 4, or 5 years old) attend Monday through Friday from 7:50 am till 2:50 pm.
Tuition:  Part-time students (3, 4, or 5 years old)       $1900/year
                  Full-time students (3, 4, or 5 years old)        $3900/year
All students are charged $100 non-refundable registration fee/year.
Enrollment Information
Anyone interested in enrolling a child in the Our Lady of Angels Preschool must complete an OLA application as well as registration and medical paperwork required by the State of Ohio.  All students must be fully potty trained to attend.
Please contact our principal, Mrs. Kathy Krupar, at kkrupar@olangels.org or call (216) 251-6841 for more information.