Art
In Art class, the eighth grade students have been learning about Vincent Van Gogh and his painting of "Starry Night." Using oil pastels they created their own Starry Night artwork.  The preschool students have a new letter every week to go along with their art project, this week was the letter "F" and they had a great time making frogs!  Third and Fourth grade classes have been getting ready for Thanksgiving by making ripped paper cornucopias and sponge paint turkeys.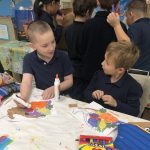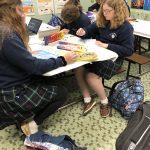 Computer
Students utilized their creativity and editing skills in computer class to create thank you cards for Veterans in honor of Veterans Day.  These cards were designed using Google Drawings and shared with local veterans.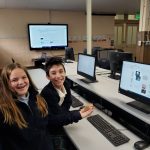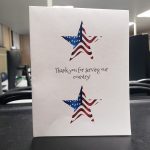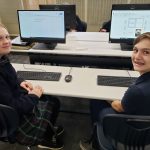 In preparation for Computer Science Education Week, December 9 – 15,  fifth through eighth grade students are learning about computer science and the many ways technology impacts society and daily life.  Students are looking forward to participating in the Hour of Code next month!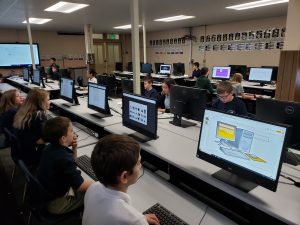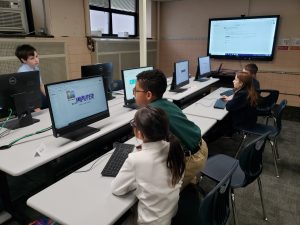 Library
Students enjoyed reading Halloween books and are now checking out the many Thanksgiving books in the Library.  Library classes also started talking about Non-Fiction and the different types of materials available.
Music
Physical Education
During the month of October the Physical Education classes focused on volleyball.  The students learned and practiced the skills needed to play the game. The younger grades used balloons and beach balls, while the upper grades competed in real games.  Students also had a lot of fun playing Halloween games!
Spanish
In Spanish class, students have been discussing the Catholic Tradition from Mexico called, "Dia de los Muertos" or "Day of the Dead". This holiday takes place on November 2nd, our All Souls Day. The students were able to decorate their own Calavera skulls in class, while reading about the various practices that take place in Mexico during this month.