Attention Cleveland Residents! Click here for more information on applying for the Cleveland Scholarship Program to cover the cost of tuition for your children attending Our Lady of Angels.
2021-2022 Registration information for New K-8 Families:
Application Fees (these fees are not covered by state scholarships)

Registration fee of $150

per student


Checks should be made out to "Our Lady of Angels School".

This registration fee is non-refundable if acceptance is granted and the student  does not attend.

Technology Fee of $100

per family

due at time of registration

Tuition
Application Packet includes the following documents to be completed
(click here for the OLA Application Packet)


Application for Admission & Student Information
Request for Records Form (we will send to previous school)
Registration/Tuition Agreement
This will indicate if the child is receiving a scholarship or if the family is paying the school tuition.
Legal Custody Form
Limited Power of Attorney (optional)
To give OLA permission to endorse scholarship checks on family's behalf.  If not completed, parent/guardian will be required to come to the school office to sign scholarship checks when they arrive.
Emergency Contact Information
Permanent Record Card
Physical Form (to be signed by a doctor)

Additional documents to be provided to the school by the family

Birth Certificate (copy)
Baptismal Certificate (if Catholic)
Copy of all standardized tests and State of Ohio required testing
Copy of Last Report card (if enrolling in grades 1-8)
There may be cases where temporary acceptance is granted based on current report card with the understanding that the last report card will also need to be provided. This applies in cases where a student's current grades reflect some academic concern.
Court documents related to custody of the child. (if applicable)
It is the responsibility of the custodial parent to make sure that OLA has a copy of the most recent custody order.  OLA will abide by all legal court orders regarding custody
Re-registration for Returning Families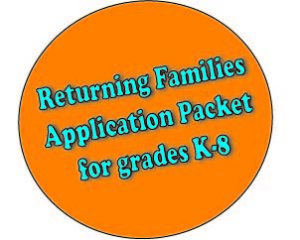 Registration applications will be available in the school office beginning Sunday, January 31, 2021.
Registration fees are due by Friday, March 19, 2021. If fees are paid after March 19, 2021, registration fee goes up to $175.oo per student for each returning student.
2021-2022 Registration information for Preschool Families

For more information regarding the preschool program at Our Lady of Angels, please visit the preschool program page.